3 Healthy Homemade Snacks to Satisfy Any Craving
When it comes to snack foods, the healthiest options are those that haven't undergone any processing and are rich in either fiber, protein, or both! The problem with many commercially-bought snack foods like crackers, chips, pretzels, popcorn, and trail mix is that they often contain added sugar, salt, or heavily-processed hydrogenated oils (i.e. trans fats).
Have you ever started eating chips or crackers, and before you know it, you've eaten the entire box? Unfortunately, most store-bought snack foods or processed carbohydrates often don't provide significant nutritional value and mainly appeal only to our taste buds. In other words, they consist of empty calories and little to no fiber, which is what causes us to feel hungry shortly after consuming them. Luckily, to get you geared up for C30, we've highlighted three simple protein and fiber-packed homemade snacks that are easy to make so you can stay properly fueled and energized throughout the week.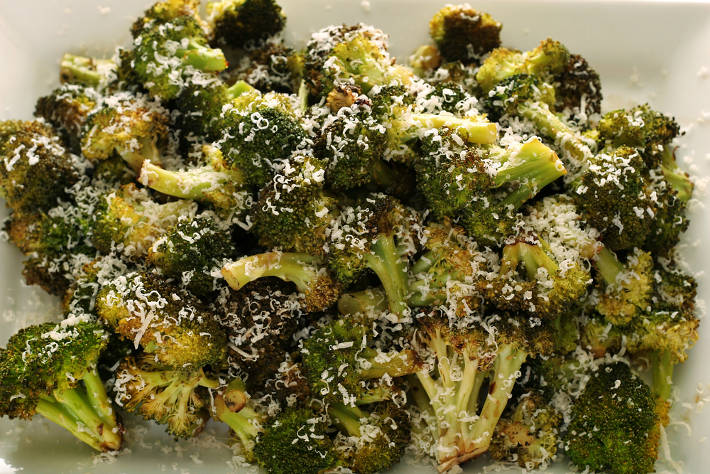 Who would've thought broccoli could taste so delicious as a baked chip? Sprinkled with a little parmesan cheese, these baked broccoli chips can be whipped up in under 20 minutes and make an ideal substitute for store-bought crackers and chips. Serve them with a side of organic hummus and you have yourself a delicious yet highly nutritious snack that'll curb hunger while keeping you on track with your daily calorie targets.  
Ingredients
12.3oz broccoli florets

1.7oz parmesan cheese

2 tsp. (0.3fl.oz) extra virgin olive oil

Pinch Himalayan salt
To prepare: Preheat the oven to 356˚F and line a baking tray with baking paper. Place the broccoli florets on the tray and drizzle with olive oil. Sprinkle parmesan cheese over the broccoli and season with Himalayan sea salt. Bake the broccoli chips in the oven for 15 minutes or until golden brown and crunchy. 
3-Bean Salsa with Crispy Mixed Veggie Chips
Swap out those potato chips for these fresh, homemade crispy mixed veggie chips made with sliced sweet potato, zucchini, and squash. For chip lovers, they are an ideal substitute for overly processed potato chips, as they are seasoned with rosemary, Himalayan pink sea salt, and black pepper. For an additional flavor and fiber, these veggie chips are topped off with ground seeds and nuts. Prepare these chips on the weekend and serve them with a fiber-packed 3-Bean Salsa (recipe below) throughout the week to satisfy cravings. Beans are extremely nutrient-dense—not only are they low in calories, but they're packed with plant-based protein to keep you feeling full and away from those potato chips!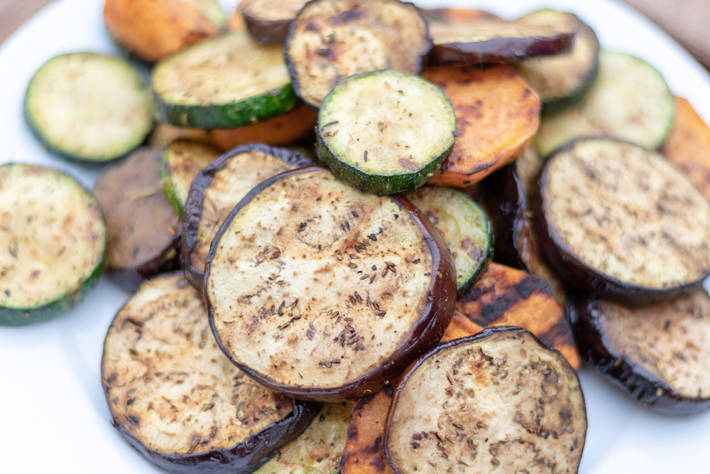 Crispy Mixed Veggie Chips 
Makes 2 servings: 225 calories/ 9.5g protein/ 23.5g carbs/ 8.5g fat
Ingredients
7oz uncooked sweet potato, sliced into 2cm rounds
10.5oz zucchini, sliced into 2cm rounds
7oz squash, sliced into 2cm rounds
0.1fl.oz extra virgin olive oil
0.1fl.oz pumpkin seeds
0.1fl.oz sunflower kernels
0.3oz raw, unsalted almonds
1 tsp. dried rosemary
Pinch pepper and himalayan salt
3-Bean Salsa 
Makes 1 serving: 126 calories/ 7.5g protein/ 17g carbs/ 1g fat
Ingredients
1oz canned cannellini beans, rinsed
10z canned black beans, rinsed
1.4oz canned chickpeas, rinsed
1.4oz cherry tomatoes, sliced
2 tsp. (0.34fl oz) balsamic vinegar
Himalayan salt & pepper
To prepare the veggie chips and salsa: Pre-heat oven to 356˚F and line a baking tray with baking paper. Place the sweet potato, squash, and zucchini on the baking tray. Drizzle with olive oil and season with rosemary, Himalayan salt, and black pepper. Bake the chips in the oven for about 25 minutes or until golden brown. While the chips are baking, add the seeds and almonds in a food processor and pulse for a few seconds until they are chopped. Set aside. In a medium bowl, prepare the salsa. Mix together the cannellini beans, black beans, chickpeas, tomatoes and balsamic vinegar and season with salt and pepper. Once the chips have finished cooking, sprinkle over the almond and seed mixture. Divide the snack into two servings with half the chips and salsa.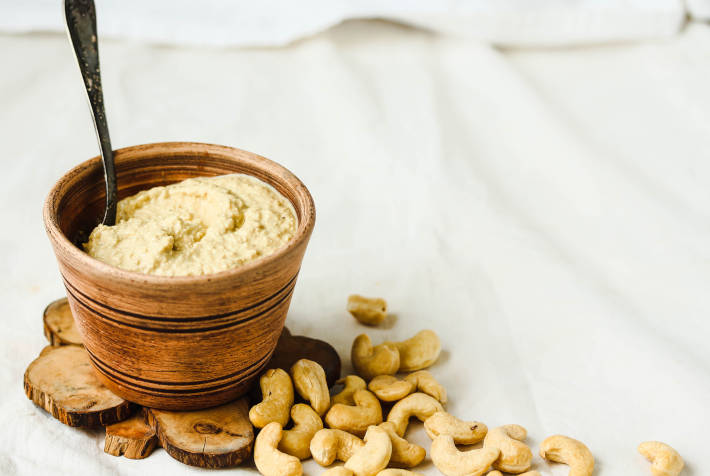 Makes 2 servings: ~206 calories/ 9g protein/ 21g carbs/ 9g fat
A deliciously creamy Chickpea Cream Cheese can be easily prepared in less than 5 minutes to top over brown rice cakes for a light and healthy snack. This non-dairy substitute for regular cream cheese is ideal for cutting cravings, as it's loaded with fiber from nuts and beans (chickpeas, cashews, nutritional yeast). Add in some freshly-squeezed lemon juice, Himalayan sea salt, and black pepper for a simple yet highly nutritious snack that tastes delicious yet contains no added sugar or hidden additives/flavorings. 
Ingredients
4 brown rice cakes
For the Chickpea Cream Cheese: 
1oz raw unsalted cashews, roughly chopped 
3.5oz (74g) canned chickpeas, rinsed 
~2 tsp nutritional yeast flakes 
1/2 lemon, juiced 
2 tbsp filtered water
Himalayan salt 
Black pepper
To prepare: Add ingredients for Chickpea Cream Cheese to a blender and blend until smooth. Add half of it to a container and refrigerate for tomorrow's leftovers. Add 2 brown rice cakes to a container for tomorrow's leftovers. Spread the remaining mixture over 2 brown rice cakes and serve for today's snack.