All About Brunch: 5 Ways to Make Brunch-Style Eggs Without Breaking Your Budget 
As we move into the Regular Season of the F45 Challenge, it's incredibly important to fuel up with quality food both before and after a workout to aid in recovery. There's nothing better than feeling accomplished after finishing a tough workout and having a delicious, healthy brunch to look forward to! Post-workout meals are essential in promoting muscle recovery, minimizing inflammation, and ensuring our body has enough quality fuel to take us into the next workout. Selecting a post-workout meal that's rich in a quality source of protein, fresh veggies, and whole grains will help to maximize muscle recovery, promote energy, and curb cravings throughout the day. 
Eggs are a quality, complete protein source that contain all essential amino acids. They are budget-friendly and can be prepared in a variety of ways. When grocery shopping, be sure to look for quality-sourced eggs, which have a certified organic label (USDA in the USA) and are pasture-raised. Chickens that are pasture-raised are fed grains without animal byproducts and are free to roam the pasture through the day, therefore producing healthier, more nutrient-dense eggs. 
We've outlined some of our favorite gourmet brunch-style recipes that you can whip up in under 20 minutes. The best part is that these delicious egg-based breakfast recipes are not only full of flavor, but are budget-friendly and require minimal ingredients! Stay clear of fast food and skip the restaurant wait lines, because brunch is best served at home with friends and family. For more amazing brunch recipes, refer to the Recipe Library.
Keto Breakfast Burrito, Avocado, and Feta Cheese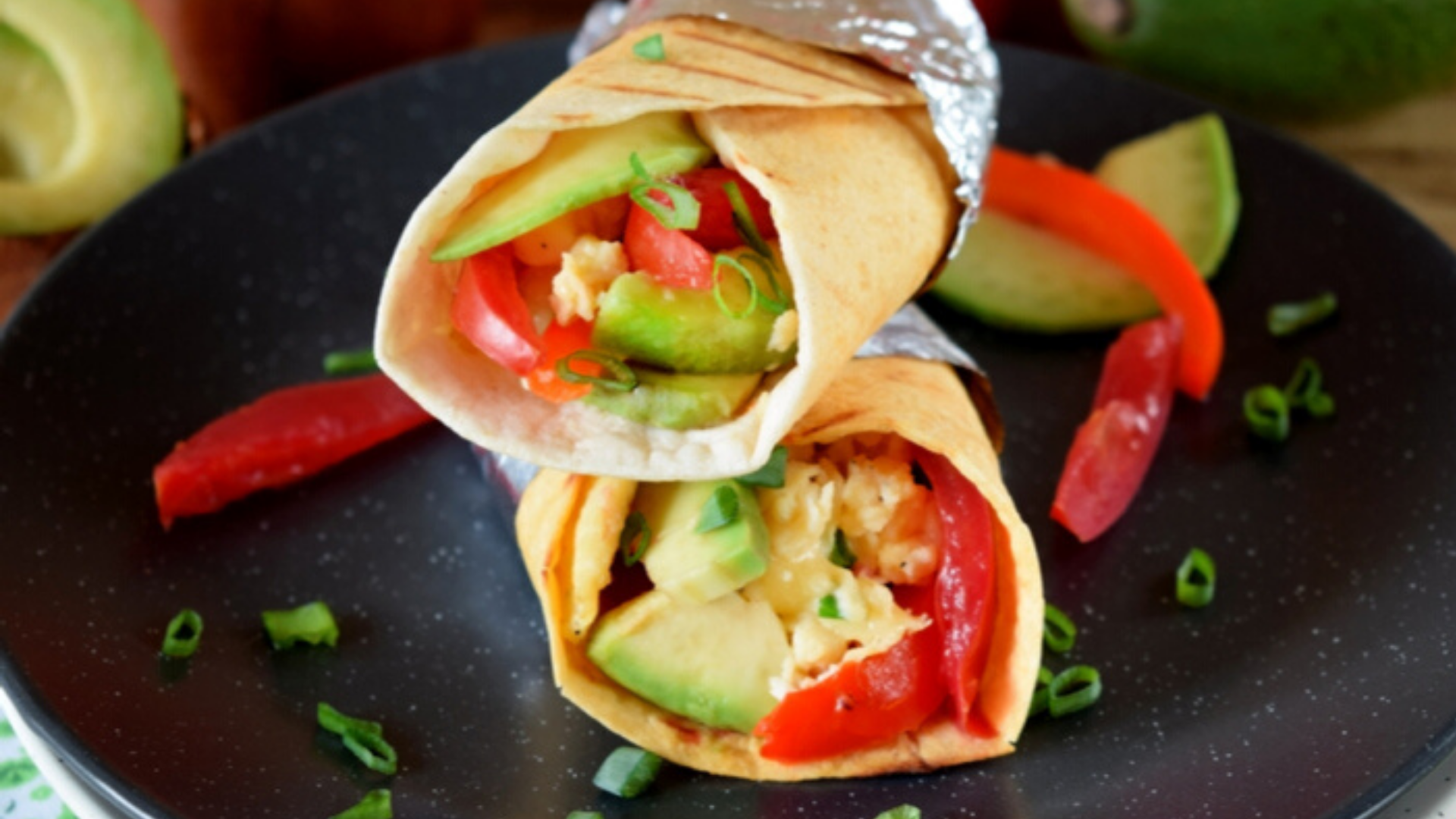 Prep Time: 20 minutes
This low-carb breakfast burrito swaps out a regular tortilla for an egg alternative. It's loaded with sauteed mushrooms, zucchini, spinach, feta cheese, and topped with fresh avocado! Packed with healthy fats and quality protein, it's a breakfast that's going to keep you feeling energized all day long.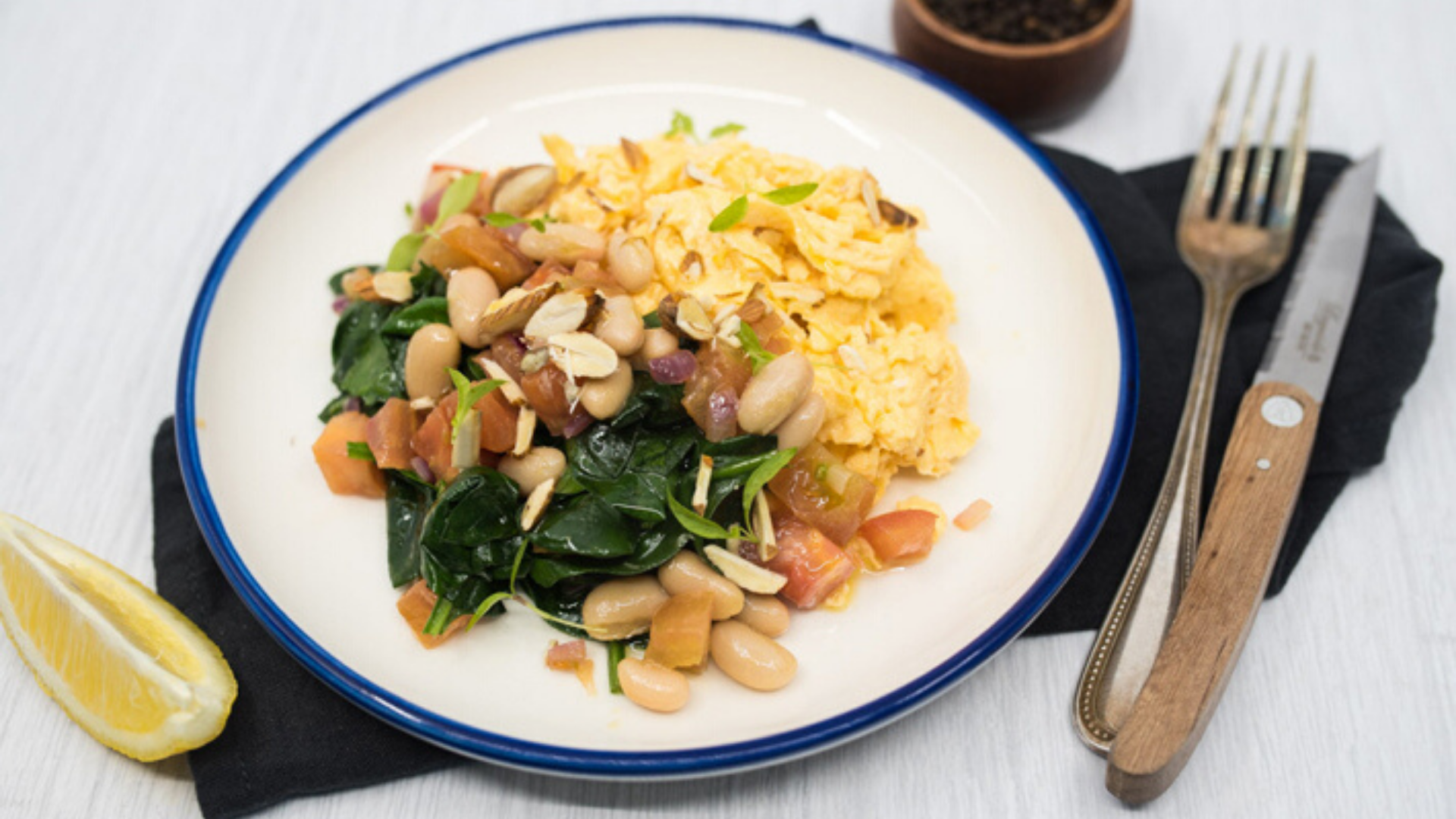 Prep Time: 20 minutes
This lean and clean brunch recipe is packed with all the nutrition you need to fuel up after a workout. Scrambled eggs are whipped up with sauteed onions, white beans and spinach, and topped with slivered almonds for an extra protein boost. This meal makes the ultimate post-workout recovery breakfast option.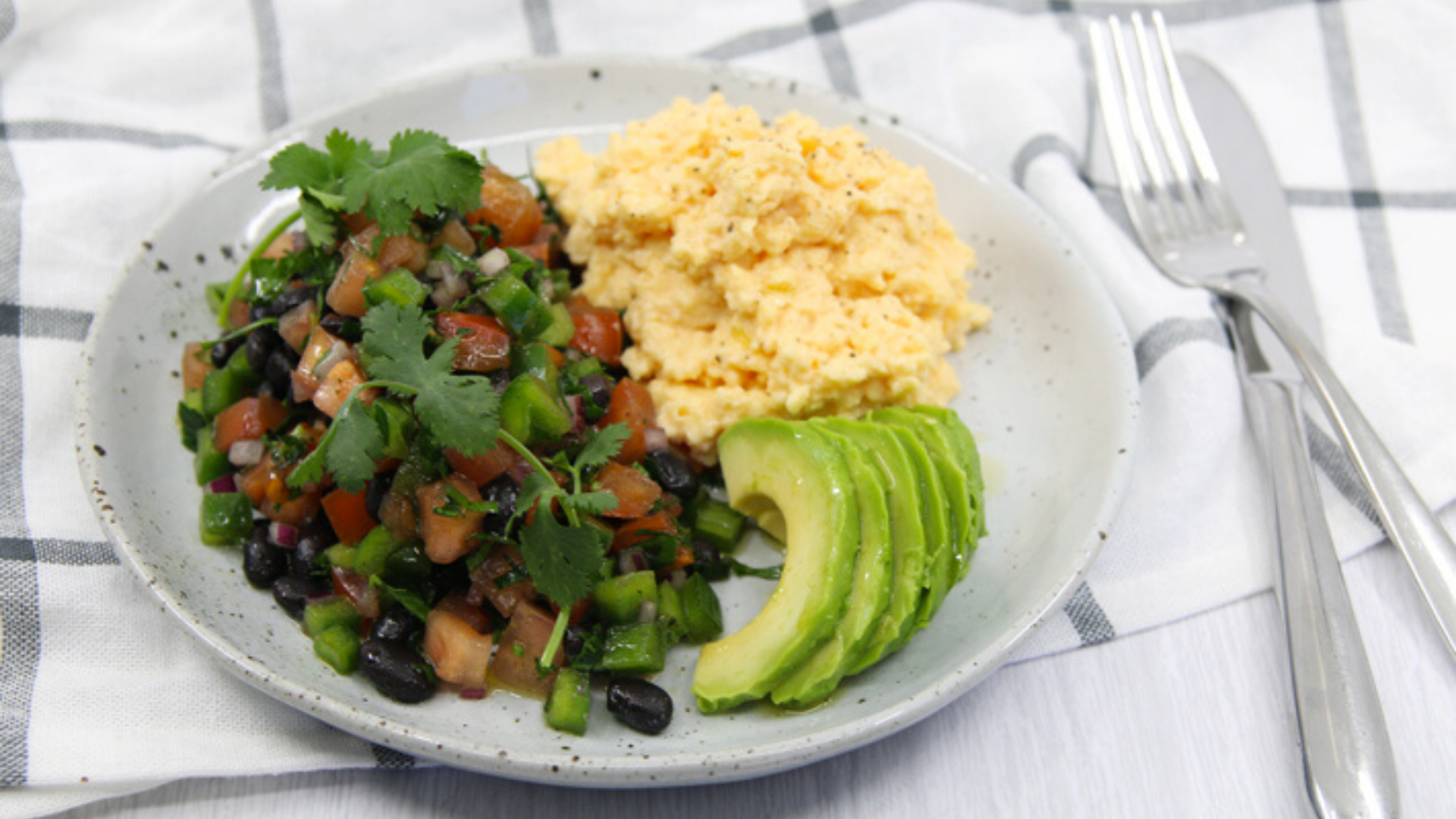 Prep Time: 20 minutes
Spice up your scrambled eggs, Mexican-style! Add some black beans, fresh avocado, spices and herbs to create a tasty, flavorful brunch dish that everyone will love. You can even top with some fresh pico de gallo or salsa verde to complete this brunch favorite.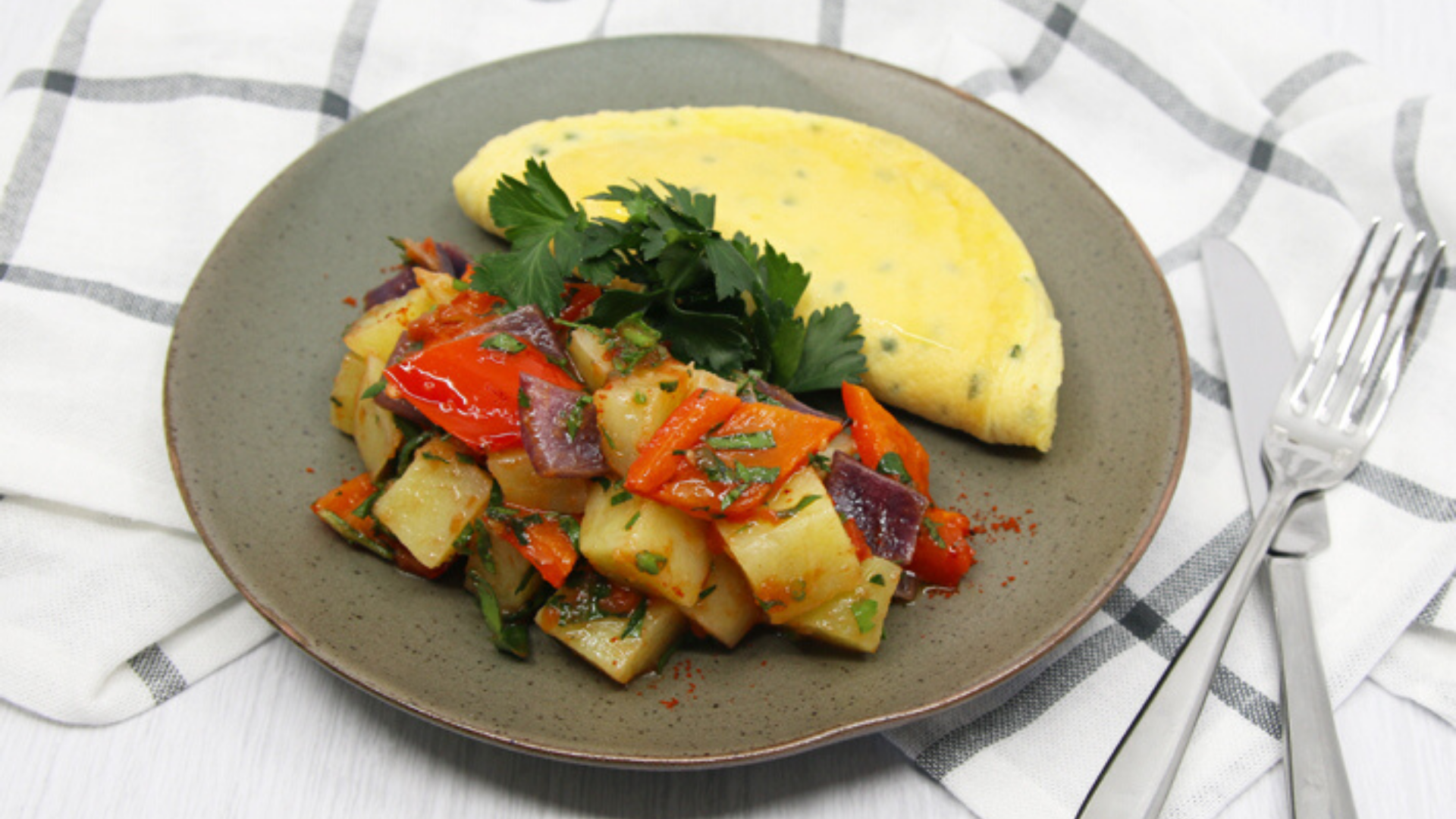 Prep Time: 20 minutes
This Spanish-style omelette is definitely a weekend brunch go-to. Served with sauteed red onions, tomatoes, bell peppers, and topped with a variety of herbs and spices, it is restaurant-worthy! It's a healthy, protein-rich breakfast that makes an ideal post-workout fuel-up.
One Pan Scrambled Eggs and Sweet Potato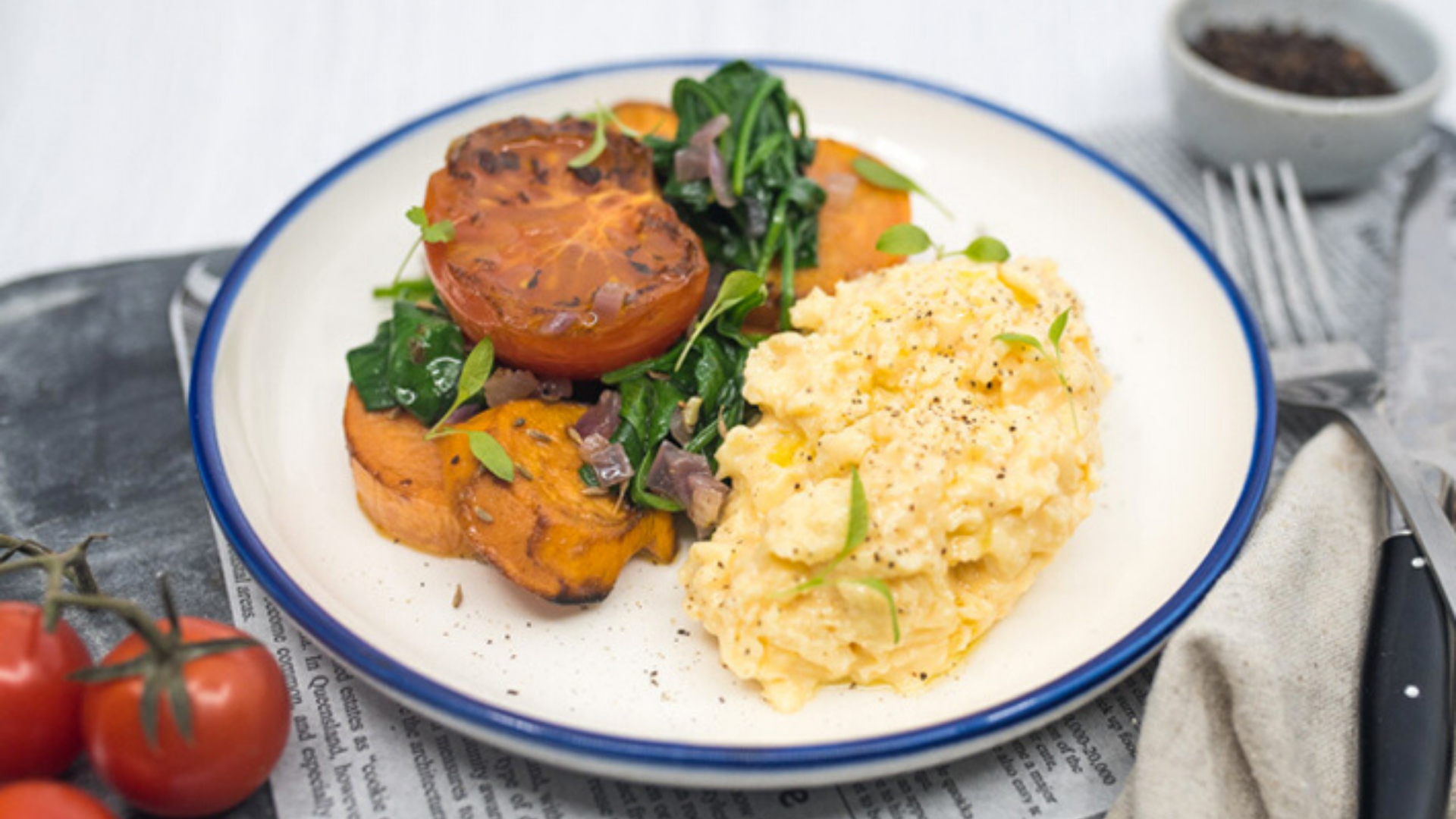 Prep Time: 20 minutes
This quick and easy scrambled egg dish takes only 20 minutes to whip up, but tastes amazing, thanks to steamed sweet potato, sauteed spinach, and fresh tomato. The key is to incorporate a variety of seasonings, including parsley and cumin, and top it off with pine nuts for an added boost of flavor and healthy fats.