An F45 Nutritionist's Favorite Plant-Based Recipes 
Whether you're primarily vegan or just looking to try a few vegan or vegetarian recipes, adding a few plant-based meals into your week is a great way to boost fiber and benefit gut health. The key to healthy plant-based eating is to use quality sources of complex carbohydrates such as whole grains (quinoa, oats, veggies) along with quality sources of plant-based proteins (tofu, beans, lentils, nuts and seeds) as opposed to processed vegan meat products. If you've been looking to add more plant-based meals into your week, the F45 Challenge vegan and vegetarian meal plans have a wide selection of plant-based options for every season. F45 Sport Nutritionist Kim Bowman has outlined a few plant-based seasonal favorites from warming soup recipes for those heading into Winter months to detoxifying salads for those heading into peak Summer heat. 
Fall & Winter 
t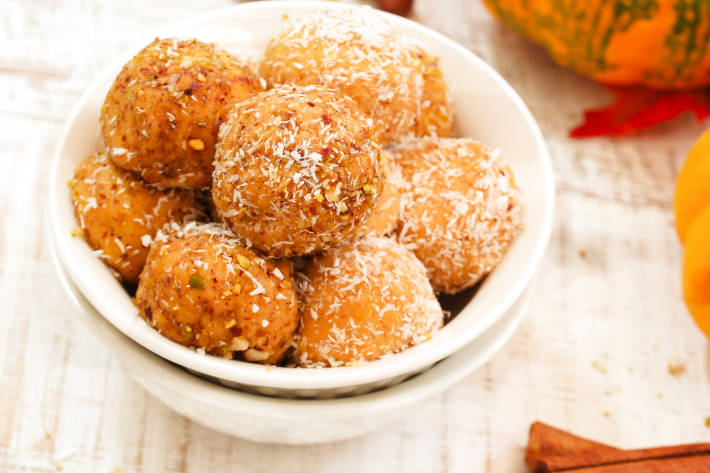 130 calories/serving 
Makes 5 servings
These Pumpkin Pie Protein Balls are a healthier version of your favorite fall dessert! At only 4g sugar per serving, they make the perfect treat to satisfy that sweet tooth. Pumpkin is a seasonal type of winter squash native to North America and is a great option to utilize in baking, as it adds a natural sweetness and boost of fiber. The combination of F45 Fuel Vanilla Protein and some favorite fall spices like ground ginger and cinnamon tastes just like pumpkin pie! Having a few healthy sweets and snacks stored in the fridge throughout the week can make all the difference when aiming to stay on track with a healthy eating routine. 
Ingredients
⅓ Cup pumpkin, peeled & diced

2 Tbsp. vanilla vegan protein powder (or flavor of your choice)

4 Tbsp. almond meal

1 tsp. ground cinnamon

1 tsp. ground ginger

2 Tbsp. desiccated coconut

1 Tbsp. rice malt syrup
See recipe for cooking instructions. 
Thai Roast Pumpkin and Sweet Potato Soup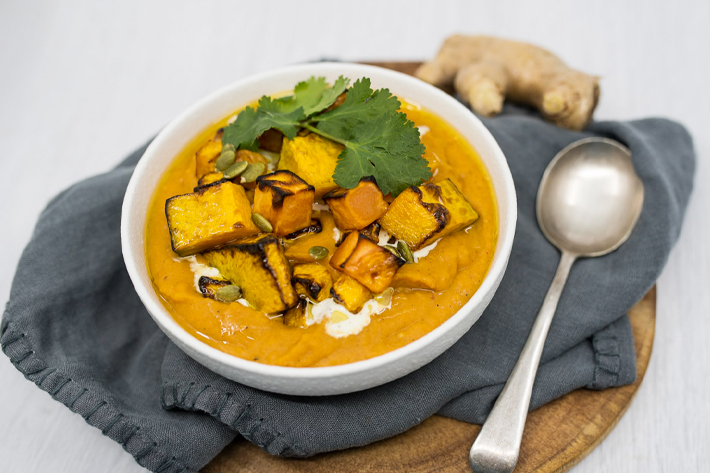 352 calories/serving 
There's nothing like a warm bowl of soup to cozy up with when it's chilly outside. This rich and creamy Thai-roasted pumpkin (or butternut squash) and sweet potato soup is loaded with nutrients that lower inflammation and detoxify the body. It's also vegan, gluten-free, and packed with warming spices and herbs like cumin, garlic, and ginger. Seasonal squash is always a fall favorite and known for being a rich source of dietary fiber and a number of vitamins and minerals, including vitamin A, vitamin C, potassium, and magnesium. 
Ingredients
¾ Cup raw pumpkin, diced

1 tsp. olive oil (to cook the pumpkin)

¾ Cup raw sweet potato, diced

¾ Cup raw potato, diced

⅔ Cup raw carrot, diced

½ Cup brown onion, diced

⅓ Cup canned coconut milk

⅓ Cup water

1 ⅓ Cup liquid vegetable stock

½ tsp. ginger, peeled, grated

2 garlic cloves, minced

1 tsp. cumin

½ Tbsp. olive oil

Pinch Himalayan salt

Pinch black pepper

1 ½ Tbsp. pumpkin seeds
See recipe for cooking instructions.
Directions
Preheat the oven to 180 degrees and line a baking tray with baking paper. Lay the pumpkin on the tray, season with olive oil and salt and roast for 15-20 minutes or until cooked through.

Meanwhile, heat olive oil in a large pot and saute the onion and garlic for a few minutes. Add the ginger and cumin and cook for a few more minutes until they become fragrant.

Add the coconut milk, vegetable stock, water, vegetables, Himalayan salt, and pepper and simmer on low heat for 15-20 minutes.

Serve half of the soup and top with half of the pumpkin seeds.

Once cooled, refrigerate the leftovers for tomorrow.
Cranberry Tofu with Roasted Pumpkin and Green Beans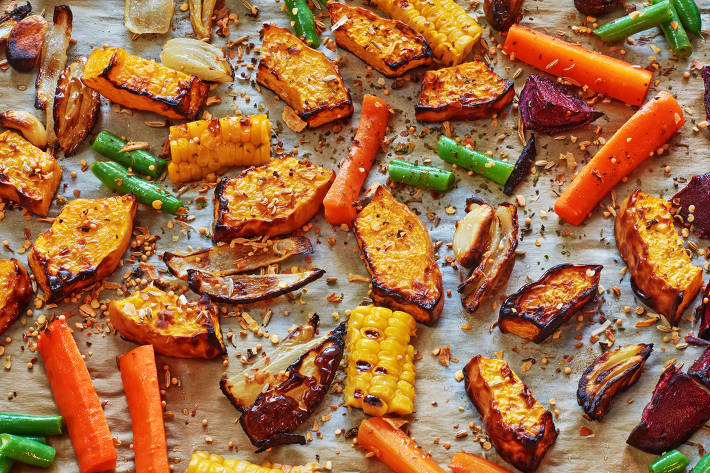 414 calories/serving 
Baked tofu with a delicious homemade cranberry sauce is a plant-based fall favorite and a definite go-to for those who are vegan or vegetarian. Baked tofu with green beans and pumpkin (squash) are topped with a fresh, warm cranberry sauce. Cranberries are loaded with fiber and packed full of vitamin C and other antioxidants, which aid in lowering inflammation in the body. Even though these nutrition powerhouses are low in sugar, they have a natural sweetness, especially simmered together with raw organic honey and fresh orange juice. Not only does the freshness of a homemade cranberry sauce taste amazing, but it's significantly healthier than the store-bought version that often packs a ton of added sugar. 
Ingredients
2 x 100g firm tofu slices (3.5 ounces)

⅔ Cup red onion, sliced 

1 Tbsp.l olive oil

1 1/2 Cup green beans, ends trimmed

1 1/2 Cup uncooked pumpkin, chopped

2 tsp. dried rosemary

Himalayan salt

Pepper

1/2 cup (50g) fresh cranberries

1/2 cup (125ml) fresh orange juice

3 tbsp. (45ml) water

½ Tbsp. honey
See recipe for cooking instructions.
Spring & Summer 
Herbed Quinoa and Pomegranate Salad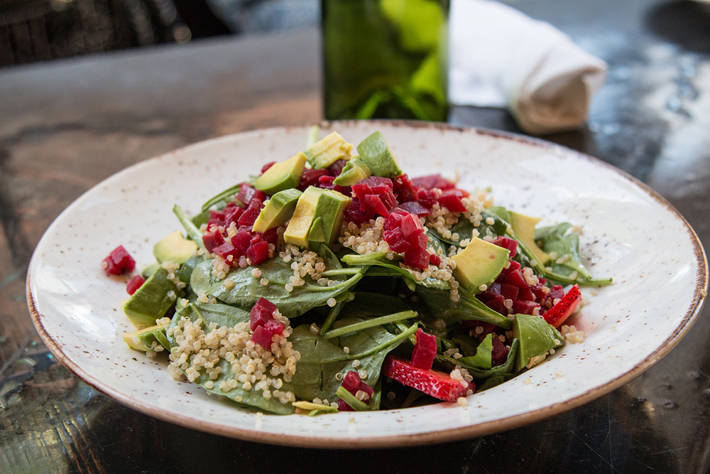 This simple vegan salad made with quinoa, spinach, and kale adds a boost of fiber and packs a ton of vitamins and minerals with antioxidant-rich pomegranate seeds. The combination of a nutrient-dense whole grain like quinoa with a quality source of healthy fat such as avocado is ideal for cutting cravings. 
Ingredients
½ Cup uncooked quinoa grains

½ Cup baby spinach leaves

½ Cup kale, shredded

¾ Cup cucumber, chopped

1 ½ Cup broccoli florets

1 Tbsp. pomegranate seeds

¾

avocado, sliced

¼ Cup pumpkin seeds

½ tsp. dry mixed Italian herbs

1 tsp. chili flakes

1 lemon, freshly squeezed

2 ½ tsp. extra virgin olive oil
See recipe for cooking instructions.
Peach, Fennel And Carrot Buckwheat Salad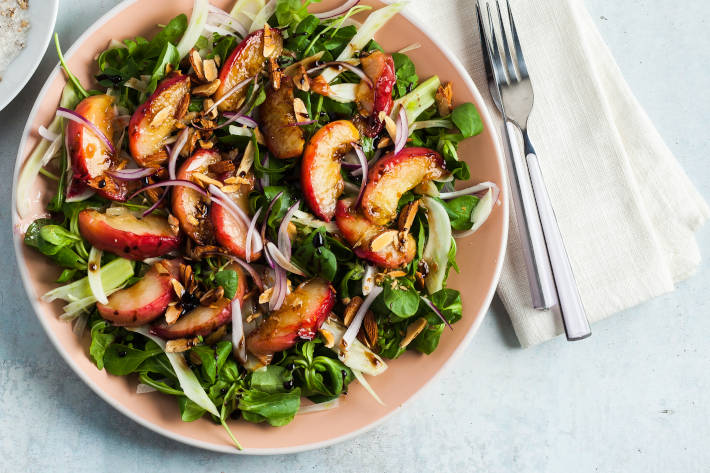 This refreshing and detoxifying salad combines the sweetness of peaches with nutritious and fiber-rich buckwheat. In fact, buckwheat contains 4 times as much fiber as whole wheat and is also a complete protein source containing all 8 essential amino acids. Buckwheat is also an ideal grain for vegans and vegetarians as it is a rich source of iron, a mineral that is often deficient in the plant-based diet. 
Ingredients
2 small (9.2oz) peaches, pips removed, thickly sliced

1 tbsp. (0.67fl oz) olive oil

¼ cup (1.4oz) uncooked buckwheat, rinsed

Himalayan salt & pepper

2 medium (4.3oz) carrots, grated

1 medium (8.1oz) fennel bulb, thinly sliced

2 cups (2oz) baby spinach leaves

½ medium (2.4oz) avocado, sliced
See recipe for cooking instructions.