Meet Trent Brown, C25 Global Winner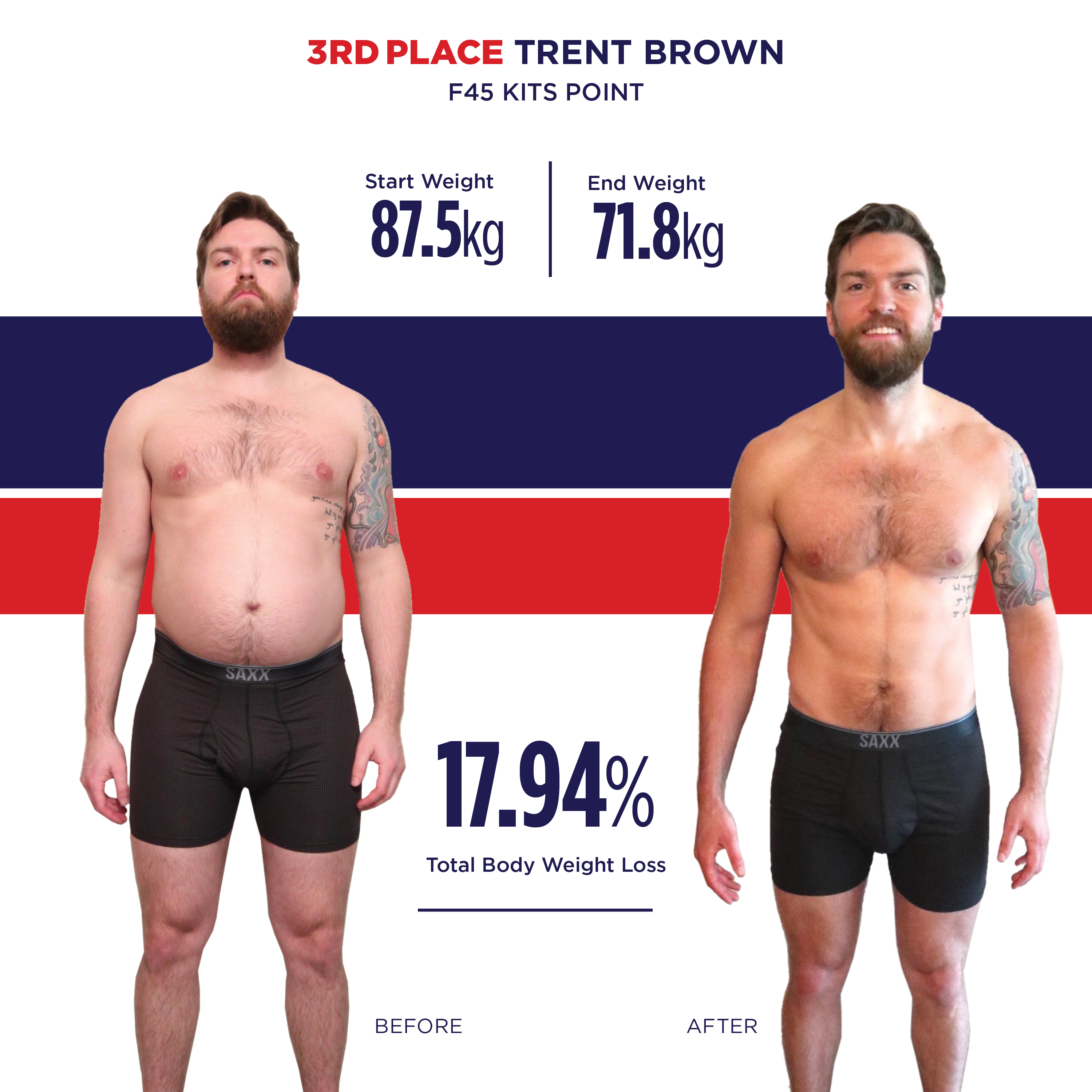 Why did you sign up to the F45 Challenge?
It started as a friendly competition between me and my best friend to see who could lose the most body fat percentage. That created another fun component to this Challenge, but to be honest, signing up was far more about achieving my own personal fitness goals to see what I was capable of. I had always been fairly athletic growing up, but over the past 5 years or so, life had really seemed to get in the way of my fitness. I deprioritized my health for other things. I noticed it not just in my body image, but sleep patterns, energy levels, flexibility, and confidence, too. Although I consider myself fairly young, I decided that if I kept prioritizing other things over my general health and wellness, how I'm treating my body now could have a lasting impact on my long term health and enjoyment in life, showing up in the forms of injuries, joint pain, heart health,etc. The F45 Challenge seemed like the perfect way to kickstart my fitness goals and achieve my peak level of fitness and maintaining a more balanced, healthy lifestyle afterwards.
What kept you motivated throughout the 8 weeks?
It changed throughout. At first, it was the excitement of starting the competition and the possibilities of what I could achieve. Then, it was seeing the results in the gym and in the mirror. After that, it really became knowing how many people were participating and going through the same struggles I was. I'm a fairly competitive person, so I often found myself saying in my head, "Just wake up and work out, man. Just eat the salad. Everyone else is." It was a little bit that sense of not wanting to let myself or my team down, and giving it my absolute all! I would also be lying if I said that the prospect of a cash prize didn't cross my mind once or twice during the Challenge…
What advice would you give to the next Challenger?
Spend the time before the Challenge to really understand your own personal hurdles to a challenge like this, and then plan for ways to overcome them. Sticking to your diet and exercise routine is easy if you live life in a vacuum with unlimited resources, and at the start, 8 weeks seems like it will fly by. But it doesn't. There are other stressors, people, events, and things in life that will happen around you, which will make it hard to stick to your plan. We all slip up a little along the way but go easy on yourself if you do, and make a plan to get back on track. Think of a few easy go-to snacks that you enjoy when you're in a pinch for time. Understand what to look for on a menu and how many calories are in that restaurant meal if you HAVE to go out for your friend's birthday. Know what other exercises will burn off those extra calories you had if you can't make your F45 class that day. Stuff like that. Take the guesswork out of it and stay motivated knowing that the results will follow the discipline, because they will.
What was your favourite thing about the F45 Challenge?
The sense of community for sure. Overall, I've fallen in love with the general vibe of F45 and the way the trainers really motivate and support you, but participating in the Challenge and having that shared common goal adds another element to it. You're excited for other members' progress and always pushing each other to get better. I never thought I could have achieved this level of fitness in 8 weeks, but the support of the F45 gym and seeing past winners helped me think it was possible—and the results were even better than I could have hoped for!
What part about the Challenge did you find most difficult and how did you push through it?
I think this 25th Challenge had a unique struggle with the effects of a global pandemic and shutdown. The effects of that have been different for everyone, but I was really fortunate in how I was being affected during that time. I realized things that were causing me stress were just extremely minor inconveniences compared to what so many other people and parts of the world were enduring. Understanding that and seeing how people were supporting each other and local businesses during this time was really inspiring. The F45 community was no exception, and watching not only the trainers get creative with providing at-home workouts, but the members rally behind the studio and one another made me want to just suck it up and finish the final weeks of the Challenge as best as I could. I felt lucky enough to be able to do so.