Snacking Made Simple: The Healthiest Snacks to Stay on Track in C29
Do you find yourself reaching for that bag of chips, cookies, or crackers in the evening? On a stressful day, do you get an urge to run out to the store to grab something sweet? Research has demonstrated that sugary or ultra-processed snacks activate our brain's reward center, which releases dopamine, our 'feel good' hormone. While these foods may make us feel good in the moment, they contain little to no fiber and leave us feeling hungry shortly after consuming them. Furthermore, after the initial spike in blood sugar fades, we start to crave these foods again.
Why do we crave snacks when we're stressed? 
Snack cravings are often brought on by elevated levels of cortisol, the stress hormone. Once cortisol has been elevated for an extended period of time, late-night snacking can become a hard habit to break. While processed food (refined sugar, trans fats) may provide us with a temporary sense of comfort during stressful periods, excess consumption can lead to stress-induced cravings. In fact, the combination of elevated stress with ultra-processed snack foods may lead to unhealthy eating behaviors and habits that are tough to break, largely impeding weight loss goals. 
While processed snack foods may be challenging to break away from, it's not impossible. The first step is to change mindless eating into mindful eating while adopting healthier ways to manage stress. Having a few homemade snack options at home is a great way to stay on track. According to F45 Sport Nutritionist Kim Bowman, the healthiest snacks are nutrient-dense and minimally processed, as they will keep you satisfied and prevent large changes in blood sugar levels.
Simple snack ideas 
Having a natural, minimally-processed snack that is rich in fiber and plant-based fats will slow digestion, curb cravings, and increase feelings of fullness. Here's a few of our favorite morning and midday snacks from the F45 Challenge Mainstream meal plan.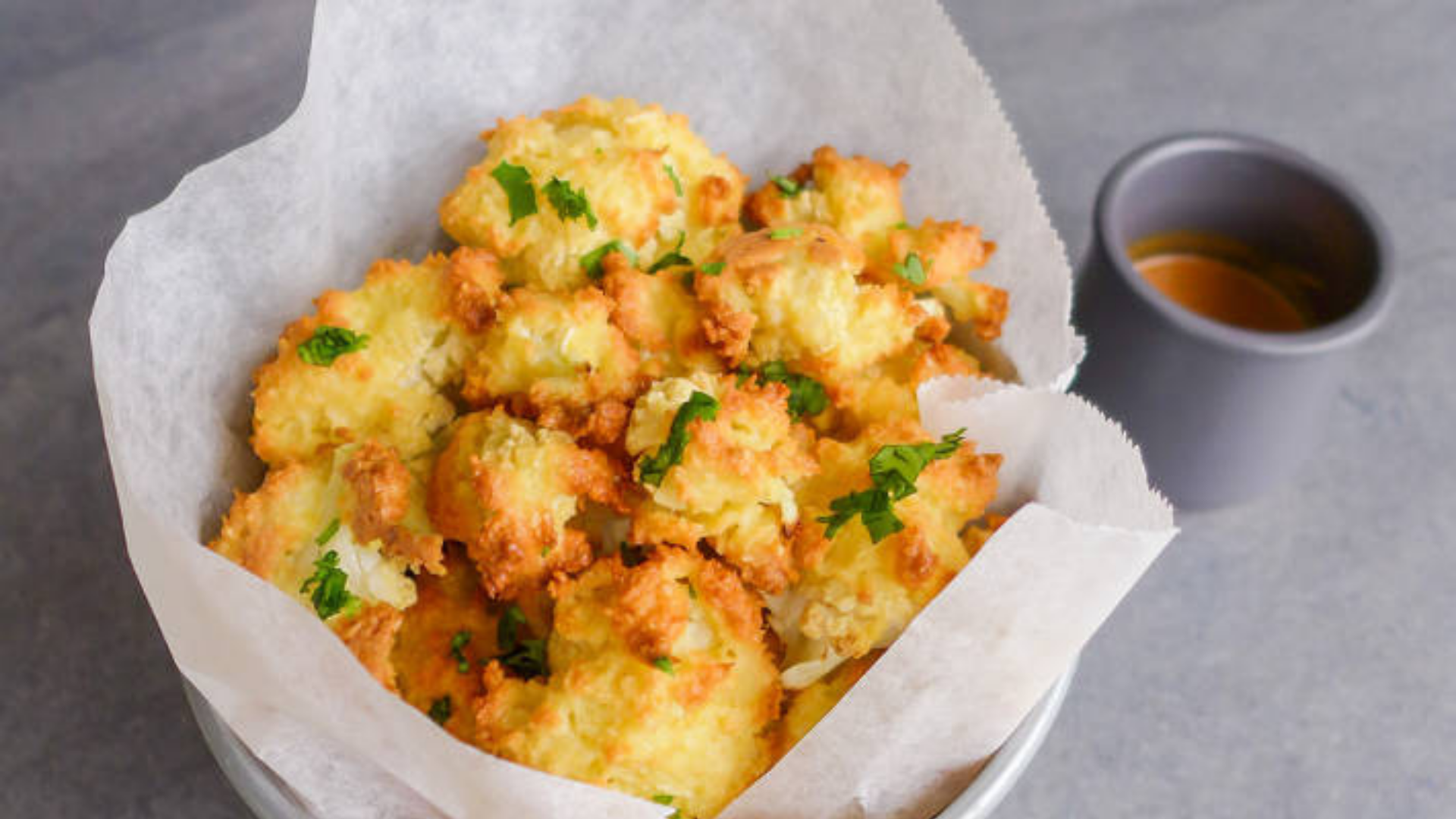 176 calories/serving
These baked, spicy cauliflower bites are rich in fiber and loaded with anti-inflammatory spices like turmeric and cumin. If you typically get midday snack cravings, these bites are the perfect option to have prepped for the week. 
Ingredients
15.8oz cauliflower, chopped into bites

0.3oz almonds, chopped

1 tbsp. (0.1oz) pumpkin seeds

1 tbsp. (0.1oz) sunflower seeds

0.6oz red onion, sliced

1 tsp. (0.1oz) paprika

1 tsp. (0.1oz) turmeric

1 tsp. (0.1oz) cumin

2 garlic cloves, crushed

1 tsp. dried basil

1 tsp. (0.1fl.oz) extra-virgin olive oil
206 calories/serving
This nutritious yet simple snack combines chickpeas, cucumbers and fresh mint leaves, and is guaranteed to keep you feeling fuller for longer throughout the day. 
Ingredients
3.2oz canned chickpeas, rinsed and drained

1.7oz cucumber, chopped

1/4 (0.7oz) red onion, sliced

0.1oz mint leaves, chopped

2 tsp. (0.3fl oz) extra virgin olive oil

1/2 lemon freshly squeezed

Himalayan salt and pepper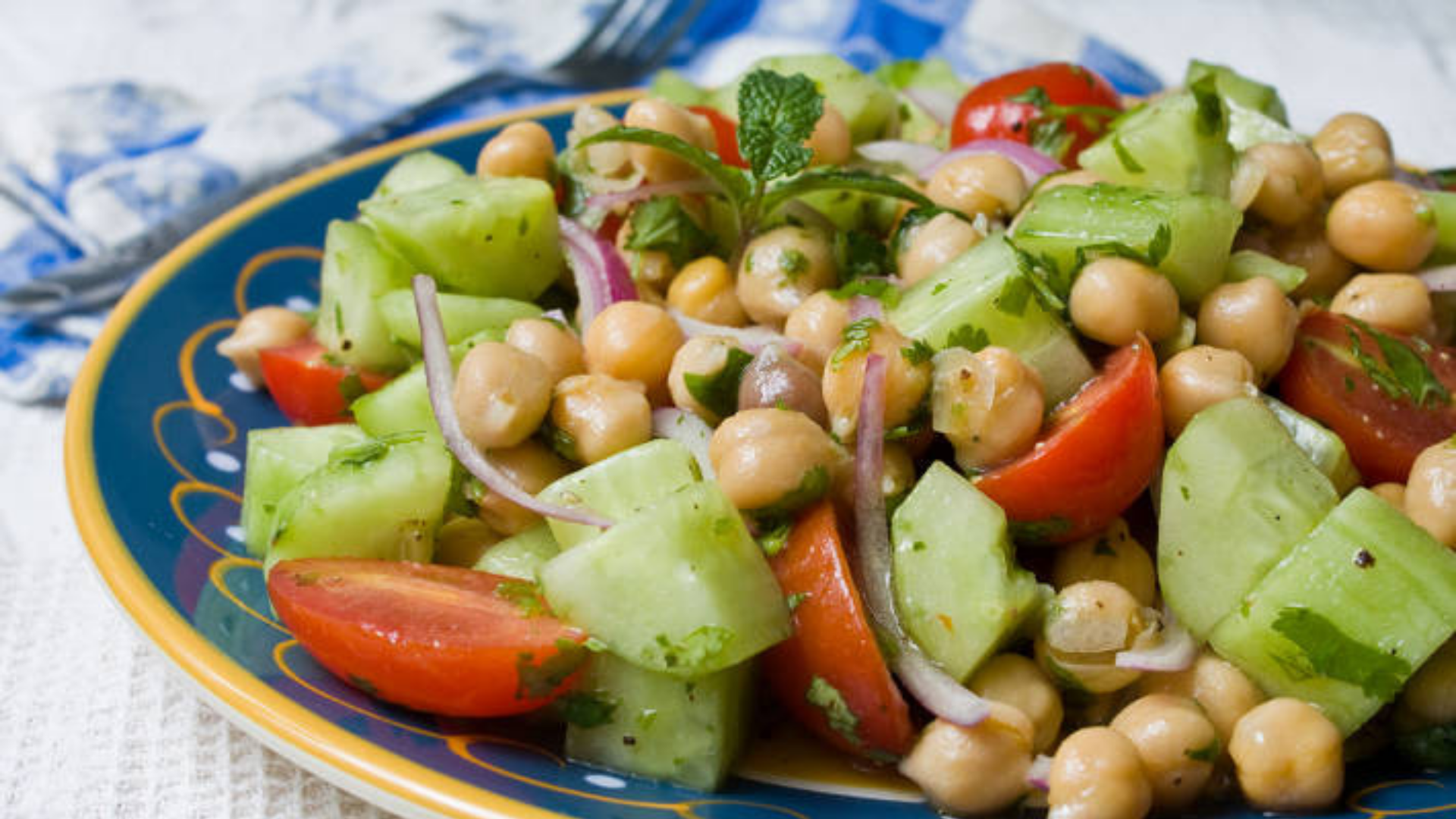 205 calories/serving
For a snack on the sweeter side, these sticky date protein cookies are guaranteed to curb any sugar cravings. The combination of natural sources of sugar (dates and banana) and fiber-rich rolled oats is a great way to satisfy a sweet tooth while staying clear of refined sugar. 
Ingredients
0.7fl oz extra-virgin coconut oil

1.4oz peanut butter

4.2oz banana, mashed

1.4oz Medjool dates, soaked in boiling water, drained

1.6oz uncooked rolled oats

0.7oz almond meal

1.2oz F45 Fuel vanilla protein

1/2 tsp. baking powder