Your Food and Mood: How the food we eat affects our mental health
April 27 | 2022 | Kimberly Bowman, MS, CNP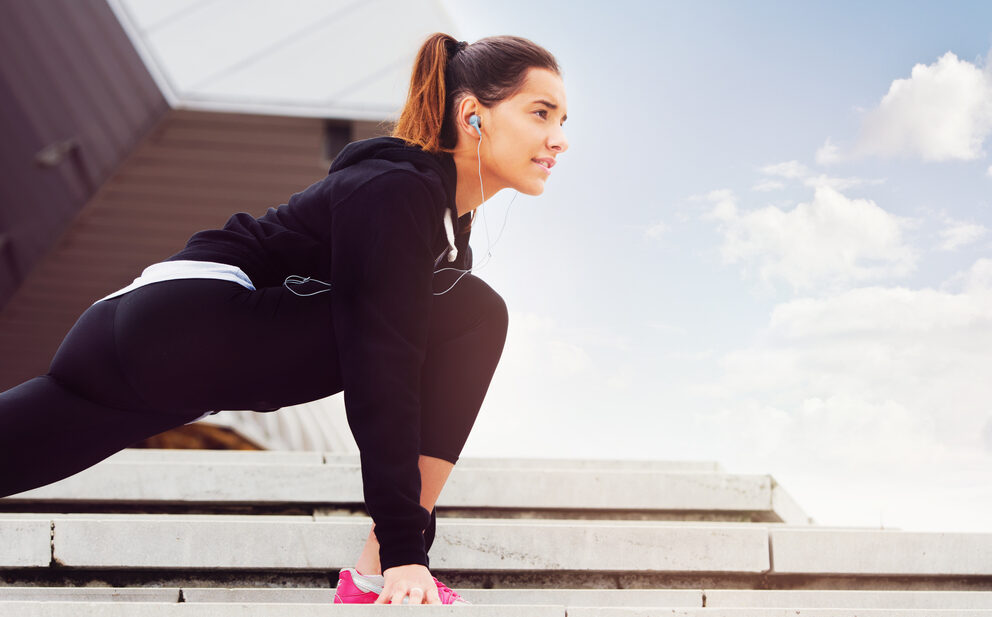 Your Food and Mood
Your brain requires a constant stream of quality fuel to keep you energized, motivated, and focused throughout the day. An eating pattern that includes high intakes of fruit, vegetables, whole grains, fish, olive oil, and antioxidants has been shown to be highly beneficial for mental health and overall mood. F45 Nutritionist Kim Bowman highlights the key differences between foods that have been shown to boost brain health from those that are more likely to induce inflammation.
How your gut health affects your mood?
Your gastrointestinal tract (GI tract) is packed with trillions of beneficial bacteria that make up your gut microbiome. Maintaining a healthy microbiome is key for digestion, immune health, metabolism, blood sugar balance, and of course, your body's mood and mental state. These beneficial bacteria also protect the lining of the intestines to limit inflammation and influence your emotions by aiding in the production of serotonin–the body's "happy hormone" that helps regulate mood.
Foods that hinder focus and brain health
Research has found that the standard western diet is not exactly gut-friendly as it consists mainly of processed foods, added sugar, refined carbohydrates, and partially hydrogenated oils. Experts in nutritional science have found that these types of processed foods induce inflammation and wreak havoc on the body's immune system and gut microbiome. When the immune system isn't functioning efficiently, inflammation within the body starts to build-up. Overtime, this type of whole-body inflammation not only hinder's focus but has the potential to damage brain proteins (Neurotrophins) that ward off depression and play a critical role in your ability to learn and remember.
What are mood-boosting foods?
Consuming mood-boosting foods ensures you not only avoid brain fog and midday fatigue but also benefits the long-term health of your gut microbiome, improves mood, and promotes a healthy blood sugar balance.
Low-glycemic, high-fiber plant foods
Glucose (blood sugar) is what provides you with constant energy, allowing you to perform everyday tasks efficiently while keeping the brain alert and focused. Nutrient-dense whole foods with a low glycemic index (GI) provide energy at a steady rate, which is key for optimizing focus and staying productive. Some low-glycemic quality foods include high fiber plant foods such as lentils, nuts and seeds in addition to whole grains such as oats and quinoa. Fiber-rich fruits and vegetables are also excellent choices for stabilizing blood sugars and optimizing focus and productivity.
Foods rich in Omega-3 Fatty Acids
When it comes to healthy fats, omega-3 fatty acids found in wild-caught salmon, tuna, halibut, snapper, olive oil, and nuts and seeds are essential for brain health. Omega-3s play a key role in lowering inflammation as well as the structuring of brain cells and neural communication.
Foods that promote a healthy gut microbiome
Foods that boost our digestive health are key to incorporate due to the strong link between our gut and our brain.By choosing gut-supporting foods (fermented foods) like Greek yogurt, kefir, fiber-rich vegetables, beans, lentils, and fresh fruit, we can optimize our gut microbiome. Ultimately, a healthy gut microbiome benefits the production of brain-supporting hormones to minimize feelings of stress and keep us feeling motivated and productive.
The Mediterranean-style diet
Together, these mood-boosting foods provide your body with essential vitamins, minerals, and antioxidants to boost brain health and overall mental health. The Mediterranean-style diet has gained popularity in the nutrition world being positively recognized for its focus on mood-boosting foods—plenty of whole grains (brown rice, quinoa), lots of fruit and veggies, legumes, quality fats from plant-based oils (olive, avocado), and omega-3 rich fatty fish like salmon and tuna. Here's one of our NEW challenge recipes packed full of mood-boosting nutrients:
Spiced Salmon with Lemony Yogurt Dressing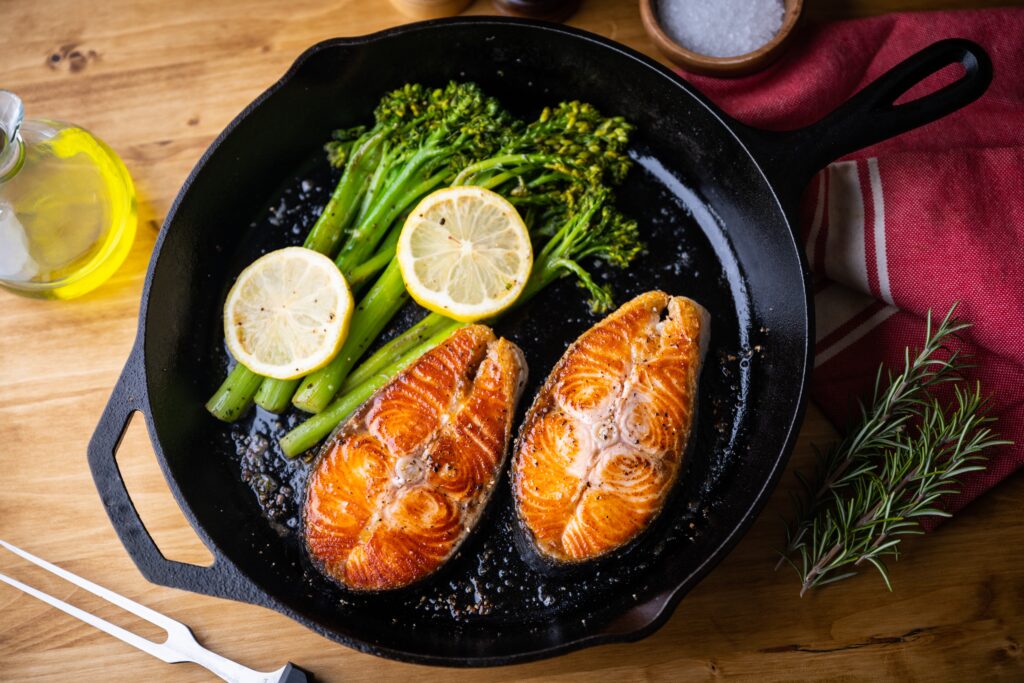 Ingredients
2 x 3.5oz salmon filet
1/2 tsp Ground coriander
1/2 tsp smoked paprika
6.4oz broccolini
1 tsp olive oil
3 Tbsp unsweetened greek yogurt
Juice and zest of half a lemon
½ Tbsp cilantro, finely chopped
Pinch Himalayan salt & black pepper
Directions: Preheat oven to 430°F and line a baking tray with baking paper. In a bowl add ground coriander, paprika, salt, pepper and half the olive oil. Stir to combine. Place salmon filets in the bowl and rub the spice mixture into each filet. Add broccolini to the baking tray in a single layer, drizzle with olive oil and season with salt and pepper. Top with salmon filets. Bake for 15 minutes or until salmon is cooked to your liking. Meanwhile combine yogurt, lemon juice, zest, cilantro, and a pinch of salt and pepper in a small bowl. Divide salmon and broccolini between two plates. Top each with lemon yogurt and enjoy!
For more recipes like this— Download the F45 Challenge app to browse thousands of healthy recipes filtered to your dietary preference.
Browse more on the F45 Challenge Blog
A New Era of F45 Challenge: All You Need to Know
How Functional Movement & HIIT Burn More Calories